Welcome. If you are here it is because you heard Dana Wilde and me talking on the The Mindaware Podcast. I hope you had as much fun listening to us as much as I did talking to Dana. She is a wonderful host who is passionate about introducing you to the people and ideas that can improve your life.
I'm passionate about helping you start your day with more energy, a morning motivation.
I have no doubt that something resonated with you and brought you here, welcome!
Did you resonate with my story?
Do you want to see what you are capable of?
Did you picture begin part of the community?
Did you just want to learn more about that voice you heard?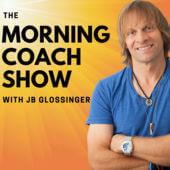 Whatever the reason, I'm glad you are here.
You can find the resources I mentioned on the interview here. Make sure to look around the site to learn more and see the newest resources to help you live the life you are capable of.
I love you, I do.
JB
Get the Ebook Wake Up Pumped E-book for free and also access to MorningCoach.com Level I. All that is required is for you to submit your best email and we will send the E-book, and access to JB's award-winning CoachCoasts as well as access to the community and more wonderful resources for Level I. Click here to get all of this right now.
Ask JB a question. Head on over to this page to get your questions answered. Click here to ask JB a question.
Need a trusted advisor? JB has a few spots open. Fill out this application for a free 15-minute one-on-one evaluation. These are first come first serve, fill out the application ASAP ==> Click here to set up a 15-minute one-on-one evaluation with JB.